"Takipçi II (The Follower II)" von Leyla Gediz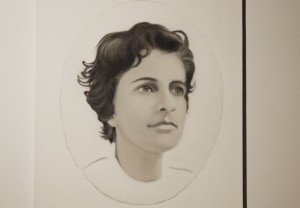 Leyla Gediz Arbeiten sind in Bildern übersetzte persönliche Tagebucheinträge, die auf autobiografischen Erfahrungen basieren.Die Werke Takipçi II (The Follower II) 2006, aktuell ausgestellt im SALT Beyoğlu und Takipçi I (The Follower I), augestellt im SALT Galata, sind hierfür beispielhaft.
Als Zuhörer lässt sich hiermit der privaten Geschichte, die den Arbeiten zugrunde liegt, nachspüren:
[wpaudio url=http://senseoftime.inenart.eu/wp-content/uploads/2012/03/04.-Takipçi-I-Follower-I-Leyla-Gediz.mp3]
1974  wird Leyla Gediz in Istanbul geboren, nach dem Abschluss an der österreichischen Privatschule Sankt Georgskolleg, studierte sie 1994 in einem Foundation Course an Londoner Chelsea College of Art and Design. In den Jahren 1995-1998 machte sie ihren Bachelor in Fine Arts an der Slade School of Fine Art, University of London. Den Master absolvierte sie anschließend am Goldsmiths College, University of London.Seither bestückte und kuratierte Leyla Gediz viele Ausstellungen in der Türkei, beispielsweise auf der Biennale in Istanbul und im Ausland, wie im Martin-Gropius-Bau in Berlin. Die Biographie Leyla Gediz' verzeichnet viele Impulse und Prägungen: doch ist es gerade ihre Heimatstadt Istanbul, wo sie lebt und arbeitet, das Motive und Geschichte ihrer Werke beherbergt.
Obwohl die meist malerischen Werke der Künstlerin folglich hohen subjektiven Gehalt und Wert beanspruchen, bleibt die Kommunikation zum Betrachter nicht aus. Auf spielerischer, humorvoller und emotionaler Ebene werden Brücken von Künstlerin über Bild zum Betrachter konstruiert. Eben so eine in die Richtung des Betrachters zulaufende Verbindung verbildlicht die zweite Arbeit, mit der Leyla Gediz im  SALT Beyoğlu vertreten ist: N'aber (2009), was "Was geht ab?" bedeutet.
Tags: Istanbul, Istiklal Caddesi, salt, Turkish Artists
Trackback from your site.